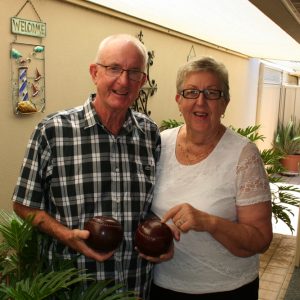 Barry and Kay are keen walkers enjoying the Village greenbelt walk ways and gardens both morning and afternoon. They also make use of the gym facility every day as part of their health regime. Their easy care home and gardens allows them to interact easily with family who are nearby, being on hand for school pickups and the like. Their move to Belswan Mandurah was prompted by needing to downsize and have greater security. With that achieved Barry is the Bowls Club President and both are enjoying having friends who have also moved into the community.
The closeness of the train and the hospital precinct facilities is also an added bonus.
Barry and Kay Wardrope
Belswan Mandurah Residents
---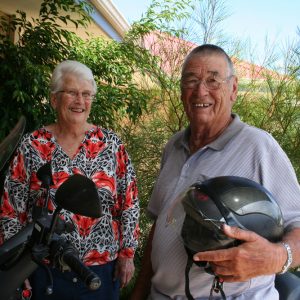 Clarrie and Daphne saw their Belswan Village home for the first time when they turned the key in the front door. Their only daughter had moved to Perth and encouraged them to move to WA by selecting their Pinjarra Village home.
They are a social couple Daphne is secretary of the social club organising Pizza nights, footy functions with pies and hot dogs and Clarrie was off to Vinnies to pick up a wild shirt for a Hawaiian night. Meeting in Junee in country NSW they find the Pinjarra Village "more countrified" which allows Carrie to zip around on his motor scooter without the worry of city traffic. They both love the greenery outlook.
Clarrie and Daphne Danswan
Belswan Pinjarra Residents
---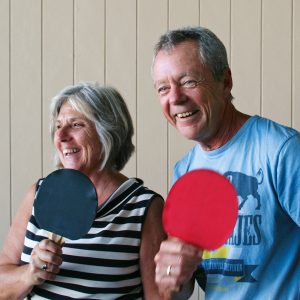 From Perth to Launceston to Cairns and back to Belswan's Pinjarra Village.
This is a very active couple. After careers in banking Doug opted for fresh air as a delivery driver and cleaning contractor while Diane became a special needs education assistant then involved herself in childcare. No surprise that these under 60 retirees are involved in every aspect of village life, Di on the social club committee, Doug on the residents committee and the bowls committee. They enjoy the country aspect of Belswan's Pinjarra Village combined with the convenience of public transport and good shopping. As Doug says, "it's better to move earlier than later".
Diane and Doug Ashfield
Belswan Pinjarra Residents
---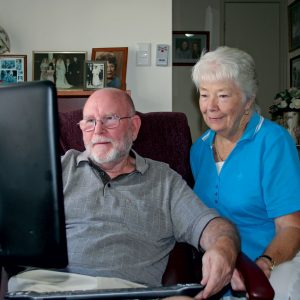 It's not often you see someone racing at the Bathurst Mt Panorama circuit in their bedroom but IT enthusiast Trevor can. Both he and Barbara are keen internet users keeping in touch with Trevor's friends he left in the UK some 50 years ago and editing up music compilations for entertainment.
When they first drove through the gates at the Mandurah Village they felt comfortable and reckon they should have made the move sooner. Barbara enjoys the social life with good neighbours and membership of the craft "knitting and natter club" as Trevor calls it. The location allows them to keep in contact with their many friends.
Trevor and Barbara Allen
Belswan Mandurah Residents
---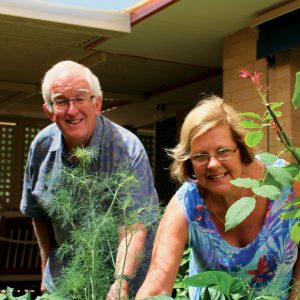 Coming from a large, high maintenance block in Armadale, Charlie and Roslyn found Mandurah very appealing. They swim in the ocean 4-5 times a week, ride their bikes everywhere, like the theatre and the social environment. Having many friends from their past living in the village, some of whom they hadn't seen for fifteen years, really reinforced their decision to make the move. Every year they chase the sun to Shark Bay knowing their home is totally secure.
While they escape the winter they know that the garden Charlie has lovingly tendered will be cared for by their son who lives nearby. How convenient.
Charlie and Roslyn Riches
Belswan Mandurah Residents
---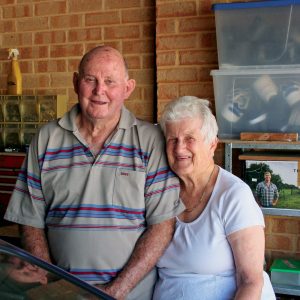 Roma and Ray spent most of their life in the Wanneroo area. When their son and daughter both moved to South Yunderup they were under pressure to move from their big 4 bedroom home in Kinross to be closer to their families. Their son reviewed all the retirement villages in the region and after 2 years Ray and Roma moved into their home. Roma said "when I walked in it just felt right and everybody was so helpful and friendly".
Ray enjoys boating and fishing on the canals and especially hearing his great grandsons urging him "come on pop let's go fishing". As for convenience Ray notes "that everything is just down the road".
Ray and Roma Okely
Belswan Pinjarra Residents